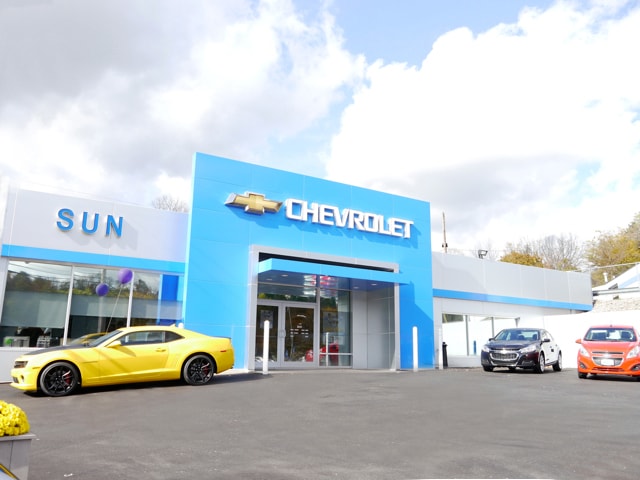 Welcome to Sun Chevrolet Inc. of Chittenango, NY! - New Chevrolet and Used Car Dealer in Chittenango, NY

At Sun Chevrolet Inc., we take pride in bringing you a compelling selection of new Chevrolet and like-new used cars in Chittenango, NY. While they all won't fit your individual sense of driving style, each is perfect for taking to the streets of Chittenango, NY. Furthermore, we have a large selection of car services and products that will complement your new or used vehicle should you decide to purchase a car from Sun Chevrolet Inc.

What are some of the new Chevrolet models you'll find at Sun Chevrolet Inc.? The Malibu, Equinox, Traverse, Cruze and Silverado, to name a few. As for which ones stand out among the pack? That's up to you to decide. Here, it's all about what suits you best. That's why we encourage you to keep an open mind and evaluate all of your options - many of which, we're proud to say, have earned at least one award or accolade.
Maybe a new vehicle is not in the cards right now. Or, maybe you simply prefer buying used cars rather than new ones. Whatever the case may be, Sun Chevrolet Inc. has you covered with a handpicked mix of used cars available now, at our Chittenango showroom. Our used vehicles are inspected from front end to rear bumper, roof to underbody, each promises  satisfaction and will last for thousands of miles to come.

Car Loans and Chevrolet Leasing in Chittenango -  Sun Chevrolet Inc. is Hassle-Free
Regardless of whether you choose to buy new or used at our Chevrolet dealership and service center serving , you can rest assured knowing you'll drive away with a car loan or lease that suits not only your current financial situation but your future fiscal goals. You're also our neighbor. And, we promise to always treat you as part of the equation.
Not only do we help buyers find the vehicle of their dreams, we fight on their behalf for agreeable financing terms. Sun Chevrolet Inc. also performs routine maintenance and Chevrolet auto repairs with painstaking perfection. Each member of our team is chosen for their advanced knowledge of Chevrolet models, ensuring that when you drop of your vehicle at our service center you'll know it's in good hands.

Prefer to do the repairs on your own? Sun Chevrolet Inc., located at 104 West Genesee Street Chittenango, NY, has the certified Chevy car parts you need to do the job the right way, and can trust it to last for years to come. To order the parts you are looking for stop by our dealership or you complete the online parts form on our website.

Any questions? Give us a ring or contact us online. We're happy to answer anything from inquiries about new Chevrolet models to questions about Chevrolet auto.