How to Change a Flat Tire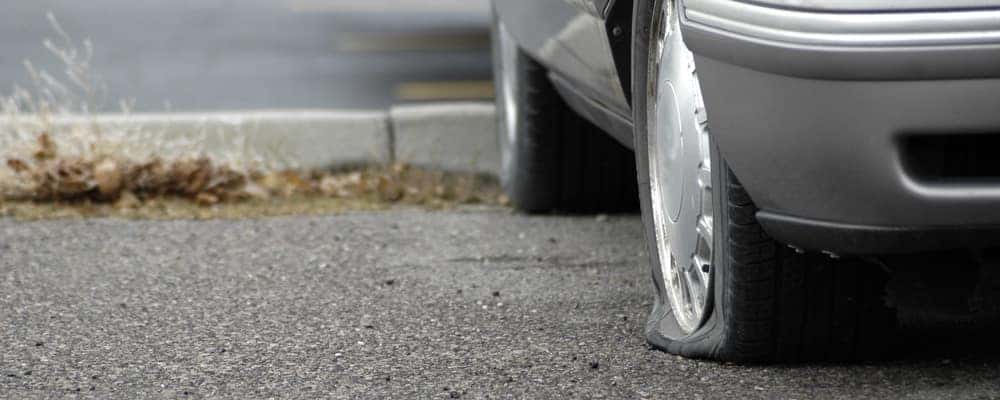 When you know how to change a flat tire, you can skip calling a tow truck and quickly get your vehicle to a service center. Once you have the proper tools and a firm understanding on how to perform this repair, you'll be back on the Cicero road in no time.
Tools You Need
Having the following items in your car will prepare you in the event of a flat:
Lug Wrench
Jack
Owner's Manual
Fully Inflated Spare Tire
It's important to check your spare regularly to ensure it is inflated to your manufacturer's recommended PSI. These additional tools are also helpful to have handy, especially if you find yourself on the side of the road at night:
Flashlight
Rain Poncho
2″x6″ Wood to Secure the Jack
Gloves
Wheel Wedges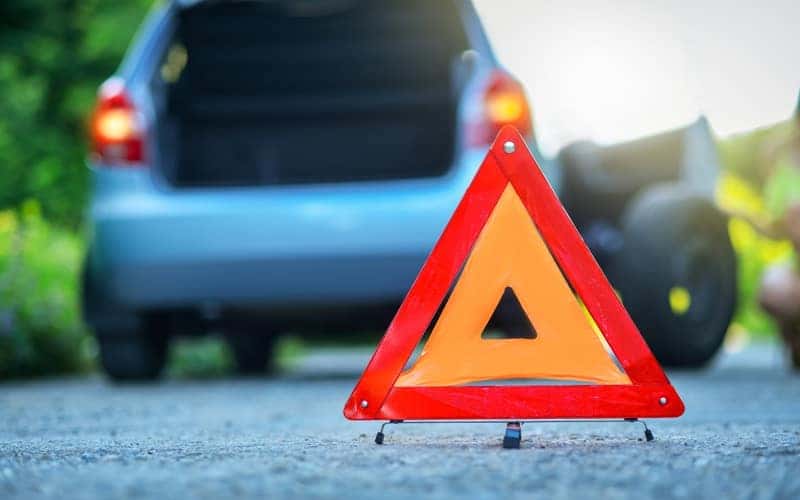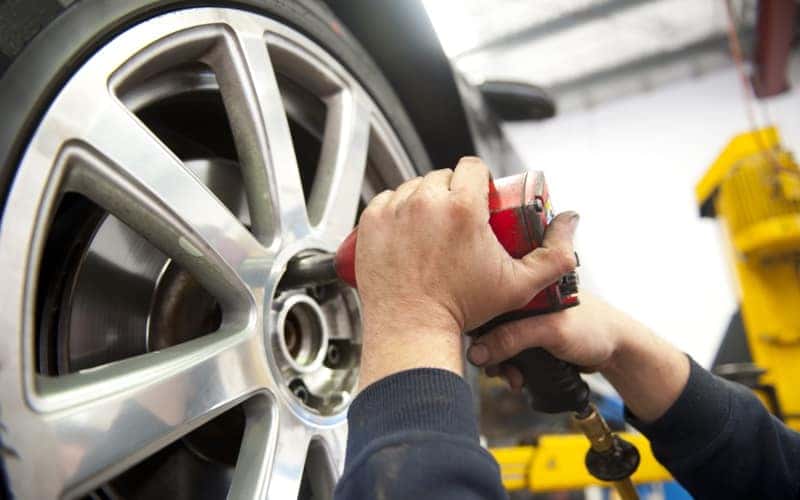 Steps for Tire Repair
Follow these steps to repair your flat tire:
Find a safe location to park your vehicle, preferably a level stretch of road with a wide shoulder.
Turn on your hazard lights to alert others to your situation.
Set the parking brake to prevent rolling, even when on level ground.
Insert the wheel wedges for stability, either in front of the front tires if you're changing a rear tire, or behind the rear tires when you're changing at the front.
Place the jack beneath the frame. Look for a section of exposed metal, and follow the instructions in your owner's manual.
Set a small cut of 2×6" wood beneath the jack to prevent it settling, then start to lift. Never place any part of your body under the vehicle.
Unscrew the lug nuts. They are easy to unscrew by hand once loose.
Grip the tire treads and pull gently towards you to remove the flat. Set it on its side to prevent rolling.
Mount the spare on the lug nuts, then tighten them by hand until they are all on.
Lower the vehicle slightly and tighten the lug nuts with a wrench.
Bring the vehicle to the ground.
Replace the hubcap. If it does not fit, stow it with your flat.
Check the pressure of the spare to make sure it's safe to drive on. Remember, spares are meant to be temporary and shouldn't be driven on at high speeds.
Drive to a service center.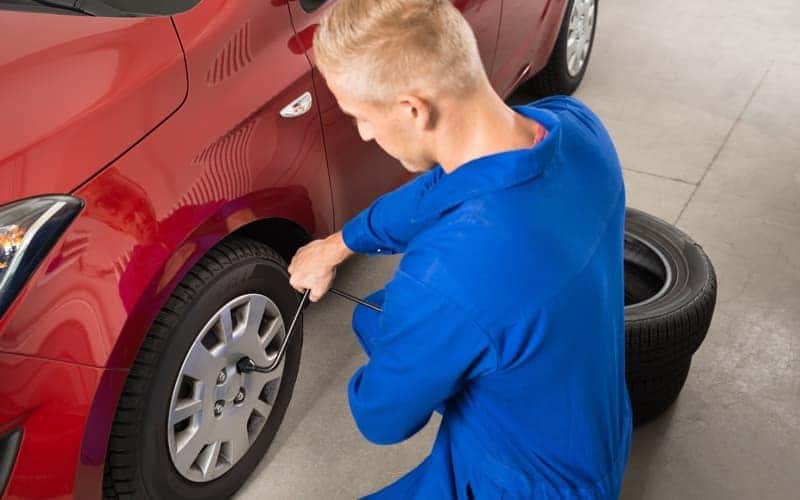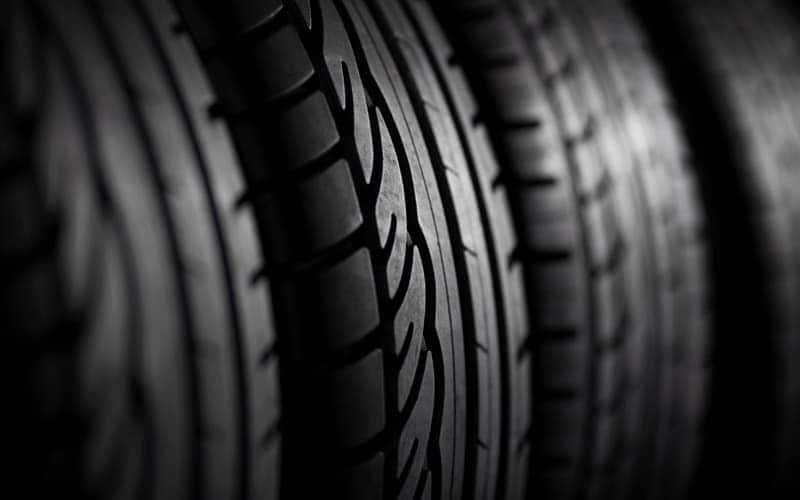 Need More Assistance? Contact Used Car King
Learn about the 10 signs you need a new car. Our service department is here to answer your all your automotive questions. Contact us today if you need additional service help, or come into our dealership in Cicero today!
Used Car King Service Specials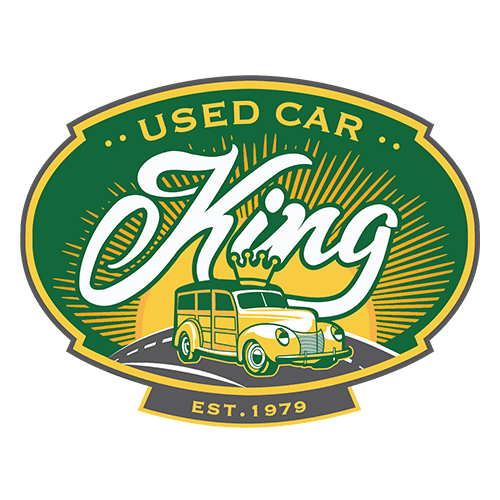 Emissions Service Check
Expires: November 30, 2018
$95.00
Complete Engine Diagnostic Check
OP Code: 38***SES
Used Car King
8010 Brewerton Rd, Cicero, NY
Service: 877-666-8835
Emissions Service Check
$95.00
Expires: November 30, 2018
Complete Engine Diagnostic Check
OP Code: 38***SES
Additional diagnostic cost may apply based on results from initial report. Must present coupon to receive discount. One per customer. Not valid with other coupons, offers or on prior services. Valid at all 3 Sun Service Centers. Expires 11/30/18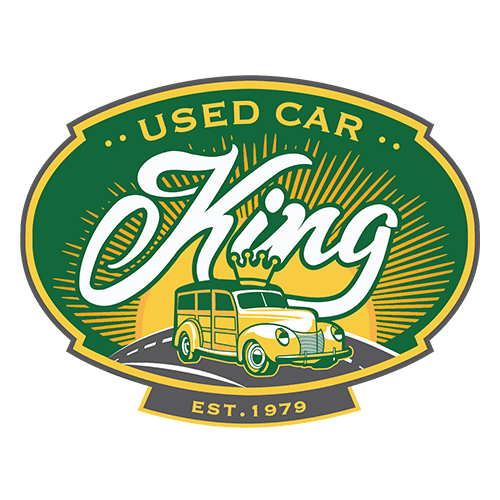 Heating System Diagnostic
Expires: November 30, 2018
$95.00
Diagnostic of Electrical & HVAC Controls
OP Code: 10***HEAT
Must present coupon to receive discount. One per customer. Not valid with other coupons, offers or on prior services. Valid at all 3 Sun Service Centers. Expires 11/30/18
Used Car King
8010 Brewerton Rd, Cicero, NY
Service: 877-666-8835
Heating System Diagnostic
$95.00
Expires: November 30, 2018
Diagnostic of Electrical & HVAC Controls
OP Code: 10***HEAT
Must present coupon to receive discount. One per customer. Not valid with other coupons, offers or on prior services. Valid at all 3 Sun Service Centers. Expires 11/30/18
More from Used Car King
Service Center The easiest way to tell if you need new brakes is by looking for the warning signs, such as looking at the brake pads for wear or listening to your brakes for squeaking. Not only do brakes generally wear down over time, but vehicle leaks can also play a role in your brake…

If you often fill up the tank of your new or used vehicle around Cicero, you've probably realized how quickly gas can add up. However, there's no need to feel like you're emptying your wallet each time you fill up your tank. By following these eco-friendly driving tips, you can help increase your fuel efficiency…

Apply for Financing If you're looking for a new or used car in Cicero, you'll probably be taking advantage of auto financing. However, you'll want to do your research before you sign any papers so you can be sure that you're getting the best monthly payments and interest rates. Find out whether financing through a…